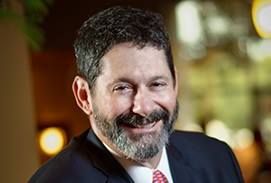 The Louisiana Restaurant Association (LRA) is pleased to announce that Greg Reggio, owner and chef of Taste Buds in New Orleans, will serve as the 2017 LRA Chair of its Board of Directors. Taste Buds is the parent company of Zea Rotisserie & Bar, Semolina Restaurant and Mizado Latin Kitchen. He assumed this role with the start of the New Year.
In this capacity, Reggio will serve as the ambassador of Louisiana's world-renowned restaurant industry. He will travel the state attending chapter meetings and philanthropic events throughout the year and foster the engagement of one of the state's largest business trade associations.
Reggio, along with his partners Gary Darling and Hans Limburg, formed the Taste Buds after a cooking event brought them together in Hawaii in the late 1980s. They opened Semolina in 1990 and few years later, created the innovative and popular restaurant concept Zea Rotisserie & Bar. Their latest successful venture is Mizado Latin Kitchen, which opened in 2013. Taste Buds owns and operates 10 restaurants in south Louisiana and one in Mobile, Ala.
Reggio was elected to the LRA state board in 2004. He has chaired several committees, including the Louisiana Foodservice & Hospitality EXPO and Communications. He was the LRA Greater New Orleans Chapter President in 2007 and was appointed by Governor Jindal to the Louisiana Tourism Development Commission in 2008.
In 2011, Reggio was named the LRA's Active Member of the Year and Restaurateur of the Year—the only member to receive dual awards in the same year. In 2012, the National Restaurant Association awarded Taste Buds the Restaurant Neighbor Award for the company's relief efforts following the tornados in Tuscaloosa, Ala. and Joplin, Missouri. Reggio also served as the LRA's Public Affairs Conference Whip in 2014.
Reggio and his chef partners were also honored as regional finalists in the prestigious Entrepreneur of the Year Awards, sponsored by Inc. Magazine and Merrill Lynch, and published in the April 2006 national publication Chain Leader for growth and rebounding from Hurricane Katrina.
Most recently, Reggio was at the front lines after the state's devastating August flood and coordinated the "Doin' It for Denham (Springs)" event, where 25 restaurants and suppliers provided a day of food, music and fellowship for those impacted.  He is a past board member and remains actively involved in the Susan G. Komen Breast Cancer Foundation. In addition, Reggio is the past President of the New Orleans Wine and Food Experience. Currently, he serves as a board member of the Louisiana Hospitality Foundation.
"It is a great blessing to the LRA to have someone with Greg's passion, experience and vision serve as our chair. He dedicates so much of his time to ensure that the restaurant industry thrives in Louisiana, be it through food relief or engagement with our members. We look forward to Greg guiding the LRA this year," said LRA President & CEO Stan Harris.
"I am truly honored by this opportunity," said Reggio. "I'm excited to engage with as many of our LRA members across the state that I can and I consider it a privilege to further the restaurant industry's position of importance in the culture and economy of our state."
Original article: http://www.lra.org/lra-blog/greg-reggio-to-serve-as-lra-chair